What are Latch Bookings?
Latch Bookings offers a convenient way for residents to reserve rooms and resources at their property through the easy-to-use Latch App. With this feature, Property Managers have the ability to create and manage an array of bookable resources and spaces, as well as determine which require payment (via Stripe) for reservation. Additionally, Property Managers can also link bookable resources with Latch access control devices, automatically providing residents with temporary access credentials to their booked spaces for the duration of their booking.
The process is seamless, as residents can browse, book, and even pay for these resources all from within the Latch App, without the need for additional hardware.
Creating a Bookable Resource / Space
To create a new Bookable resource/space:
Navigate to 'Manage Settings,' select 'Bookings,' then choose "Create Resource."
Create a Booking Schedule:

A schedule reflects the days and hours when resources will be available for residents to book. Selecting specific days will allow those resources to be booked on only those days (Example: Monday - Friday or Saturday-Sunday).

For each individual day, a unique schedule can be configured. Breaks in the available time slots can be added by clicking the '+' button on the right of a specific day (for example lunch breaks or other blackout periods). Selecting 'Copy to all' will copy the schedule set for the first day across all other days selected.

Set the time slot duration:

The options of 30 minutes, 1 hour, or 2 hours will divide up the time the resources are available for residents to book into smaller time slots. For example, if you choose 1 hour, the resource will be available for bookings in 1 hour increments (e.g. 8am-9am, 9am-10am, 10am-11am).

If you want to set a custom time slot, select "Custom." This will allow residents to book the resource for the entire duration you specify (e.g. 3pm-7pm).

Configure the Bookings Settings:

Max Time Slots:

This is the total number of time slots an individual resident may book the resource/space

per day

. For example, if 'Max Time Slots' is set to '4' with a 30-minute time slot duration, then a resident would be able to book up to 4 slots for a 30-minute time period each (a total of 2 hours a day).

Max Concurrent Bookings:

This is the total number of time slots that different residents can book a resource/space

at the same time

. This should be used when there is more than one bookable resource/space that does not need to be uniquely identified, for example, if there are four treadmills in the gym. Setting this value to '4' would avoid having to create four individual resources that need to be tracked and managed in Latch Mission Control.

Furthest Booking in Advance

:

This is the furthest in the future a resident can book a resource/space.

Additional Information:

Any additional information or notes added here will be displayed to the resident who books this resource/space.

Email Notifications:

When enabled, all property managers will receive an email whenever this resource or space is booked by a resident and if they cancel an upcoming booking.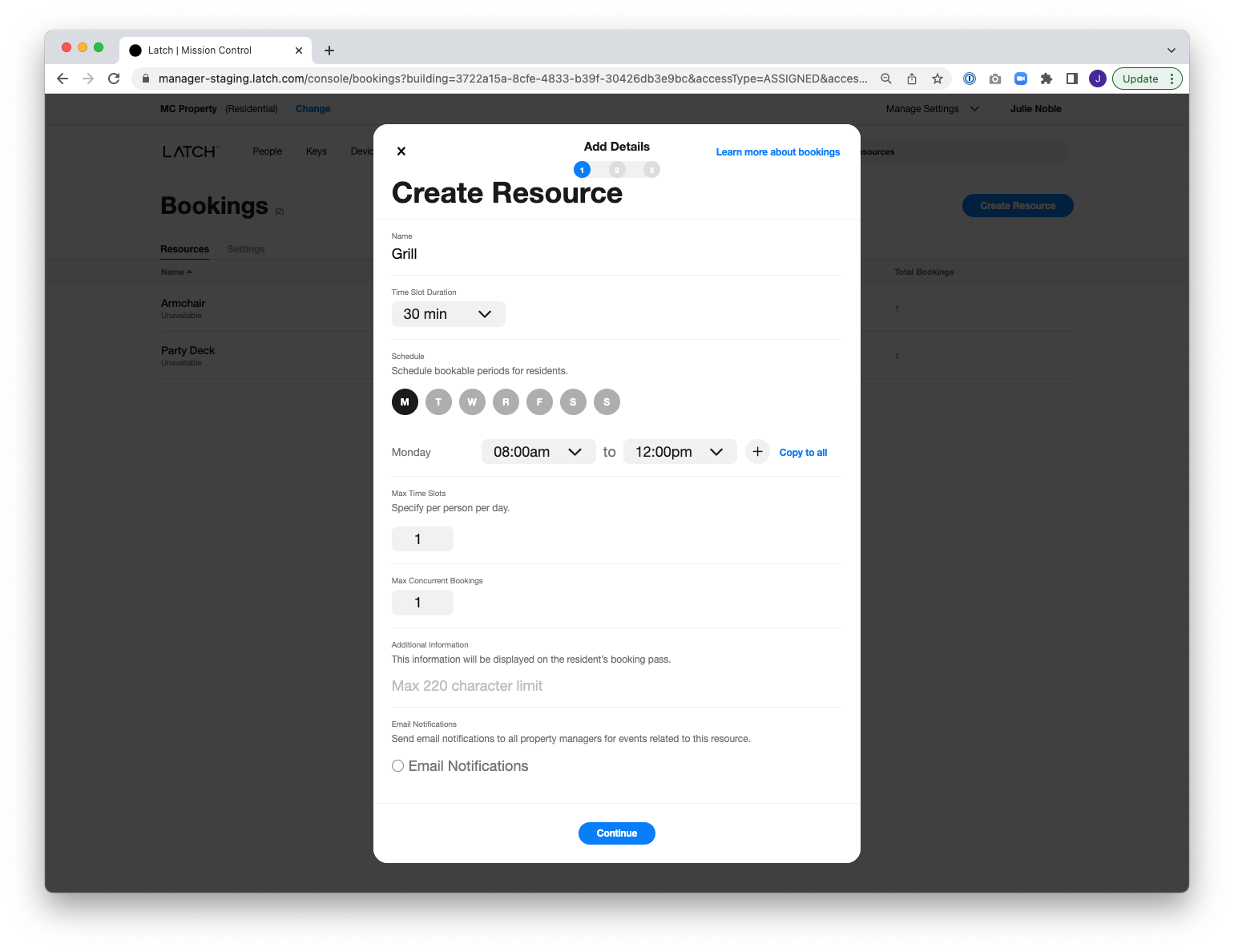 Bookings with Access
In the next step, the bookable resource can be associated with specific doors if desired. This will provide automatic access credentials to users booking this space from the start to the end time of their booking, after which their access will automatically end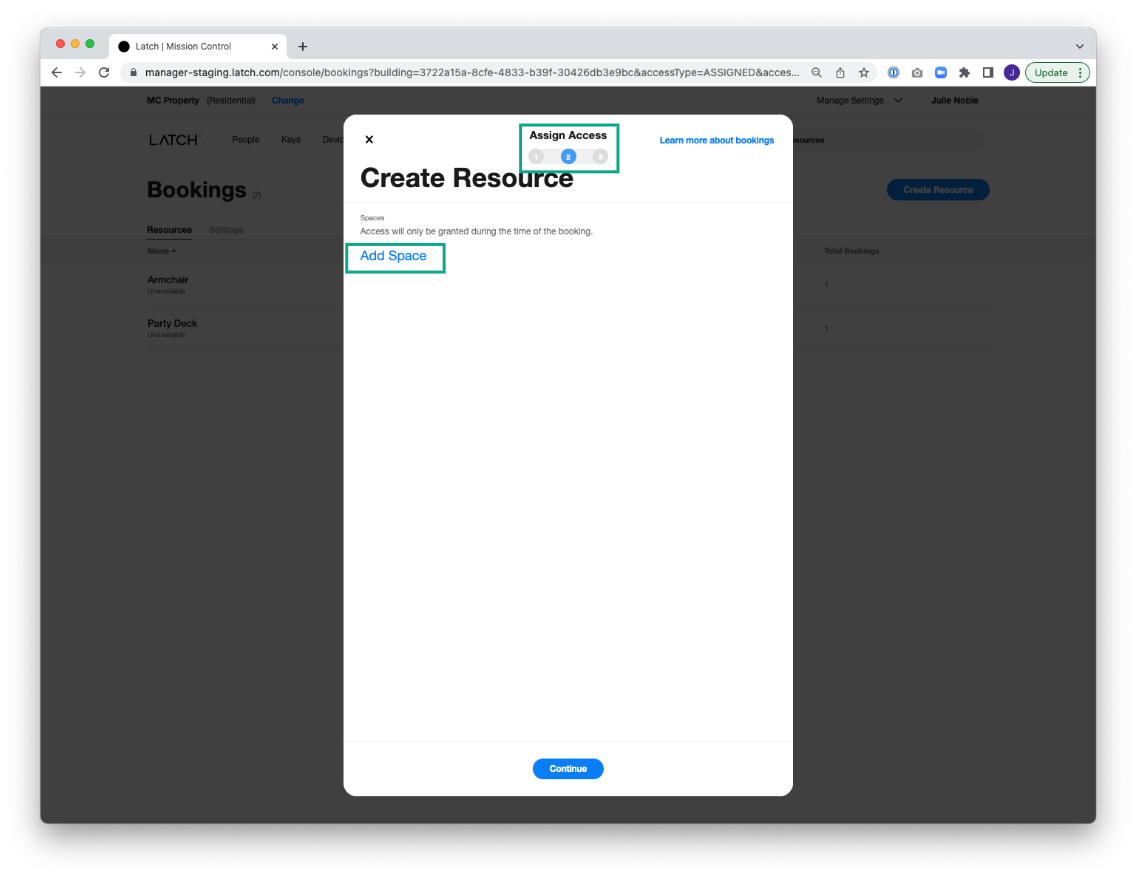 Associating doors with a bookable resources is done via Spaces - a new way of organizing doors within Latch Mission Control. In order to add a Space here to this bookable resource, you must first create a Space and assign doors to it.
Creating a Space
Navigate to 'Manage Settings,' select 'Manage Spaces,' then choose "Create Space."
Give the space an easily identifiable name, for example "Outdoor Patio"
Select the doors you would like to associate this this space (Note: doors can be assigned to multiple spaces)
Set the space as "Communal" - Only communal spaces can be associated to bookable resources
Click "Create space" - The space can now be added to the bookable resource!

Adding a Space to the Bookable Resource
On the second step of 'Create Resource' we can assign the new space under Assign Access.
Click "Add Space"
Select the Space that we just created (Outdoor Patio)
Click "Add Spaces"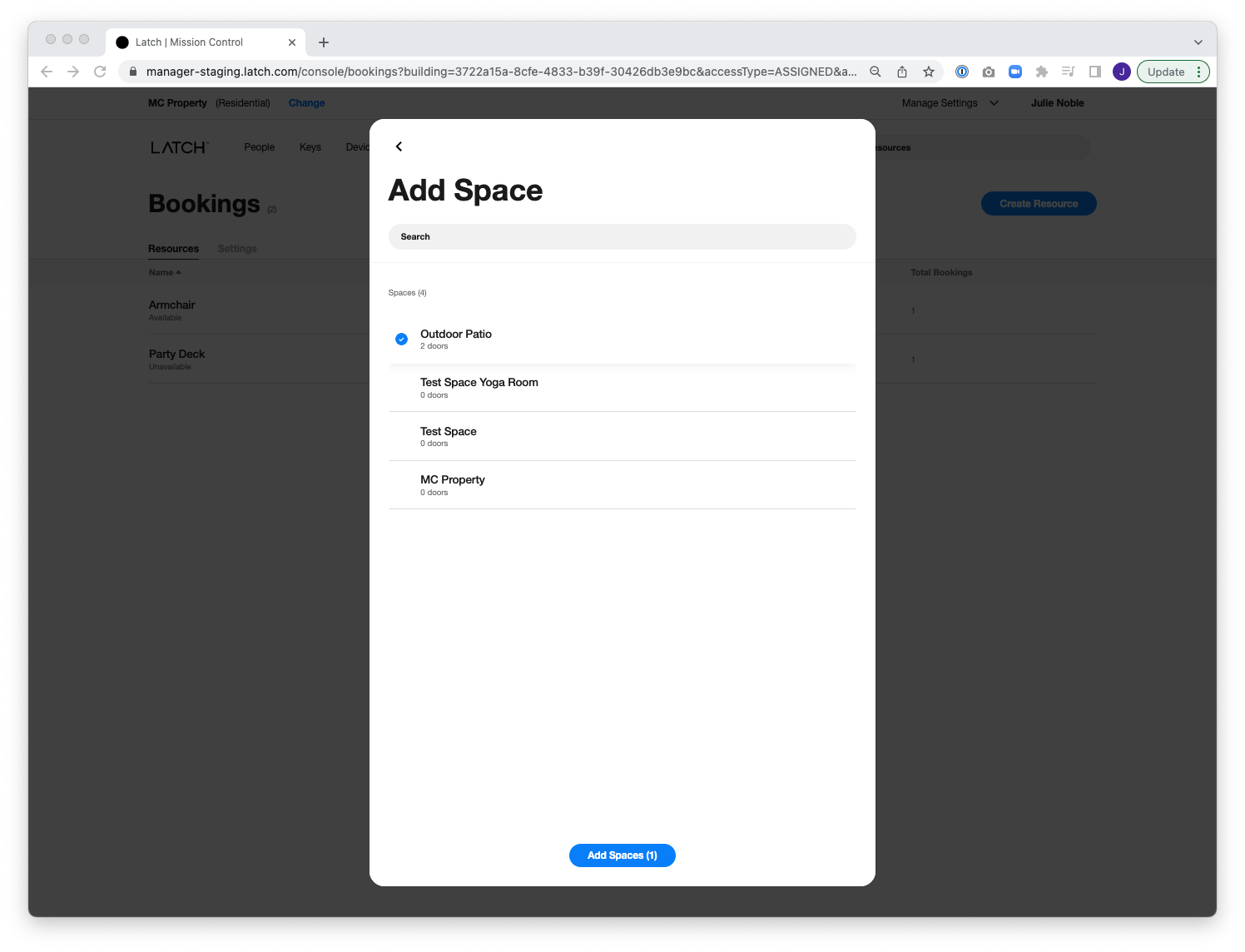 Paid Bookings
Please note - in order to accept payments for bookings, you must first create a payment profile. Please see the section "Creating A Stripe Payment Profile" below.
If you would like the resource to require payment, you'll see a 3rd and final step in the create resource flow for Setting Payment. This is an optional step - if you would like residents to book for free, you can keep the default payment type as "None". If you would like to require residents to pay for the booking during the reservation process, follow these steps:
Set the payment type to "One Time"
Input the USD amount per time slot.
Set the furthest booking in advance - this is limited to 30 days in the future for paid bookings. If you would like to extend this, please reach out to us at Bookings@Latch.com. Unpaid bookings can be made up to 1 year in the future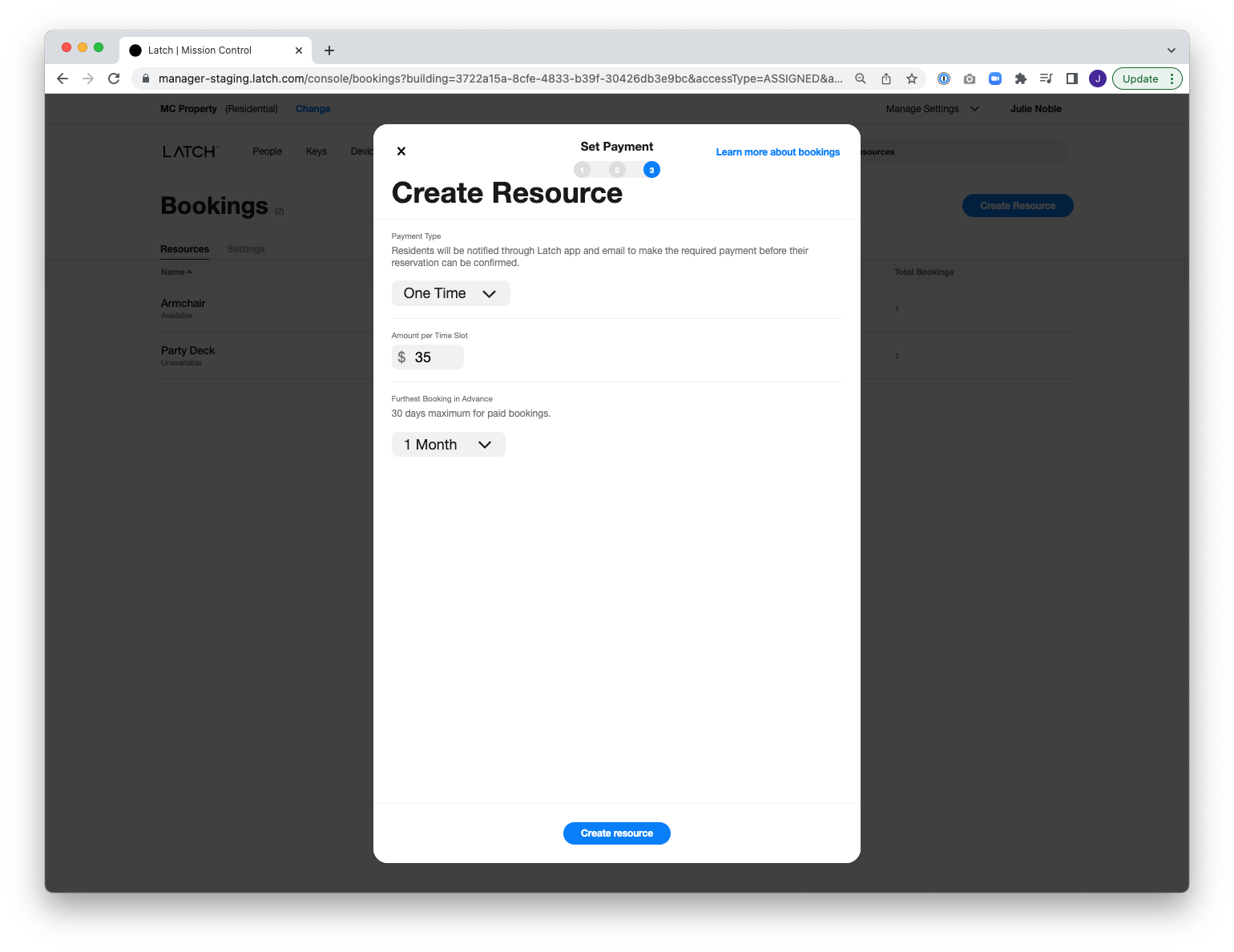 Managing Bookings
Property Managers can view an overview of all bookings by navigating to 'Manage Settings' and choosing 'Bookings.' From this page, managers can edit/delete a resource, view Booking information in detail for a specific resource, or cancel bookings.
The overview page shows the following:
Time Slots: This is the total number of currently active bookings happening right now.

Time Slot Duration: This is the time slot setting configured for this resource/space.

Total Bookings: This is the total number of Bookings made for this resource/space since it was created.
Editing or Deleting a Bookable Resource/Space:
To edit or delete bookable resources/spaces, select a resource from the list. From there, select "Edit" in the top right and make any necessary changes or choose "Delete resource" at the bottom of the page under the Info tab for that resource/space.
Please note, if you delete a resource/space or edit the schedule, all future bookings that residents have already created for that resource/space will be canceled. Residents will be notified in the Bookings section of the Latch app and via email that their booking has been canceled. If payment was required for the booking, residents will be refunded the full amount they paid for the booking.
When editing paid resource and the price of a paid resource is updated, all existing bookings will remain the same with the price set at the time of the resident's booking (they will not be charged or refunded an incremental fee to reflect the changed price). That said, all new bookings created after the price is changed will be at the new price.
Putting a Resource into PAUSED state
Bookable Resources can be put on pause, which means that no new bookings can be made for that resource, but existing bookings will not be canceled and refunded. This can be used to make some changes in the near future to the bookable resources, without canceling and refunding all existing bookings (if payment is required to book the space).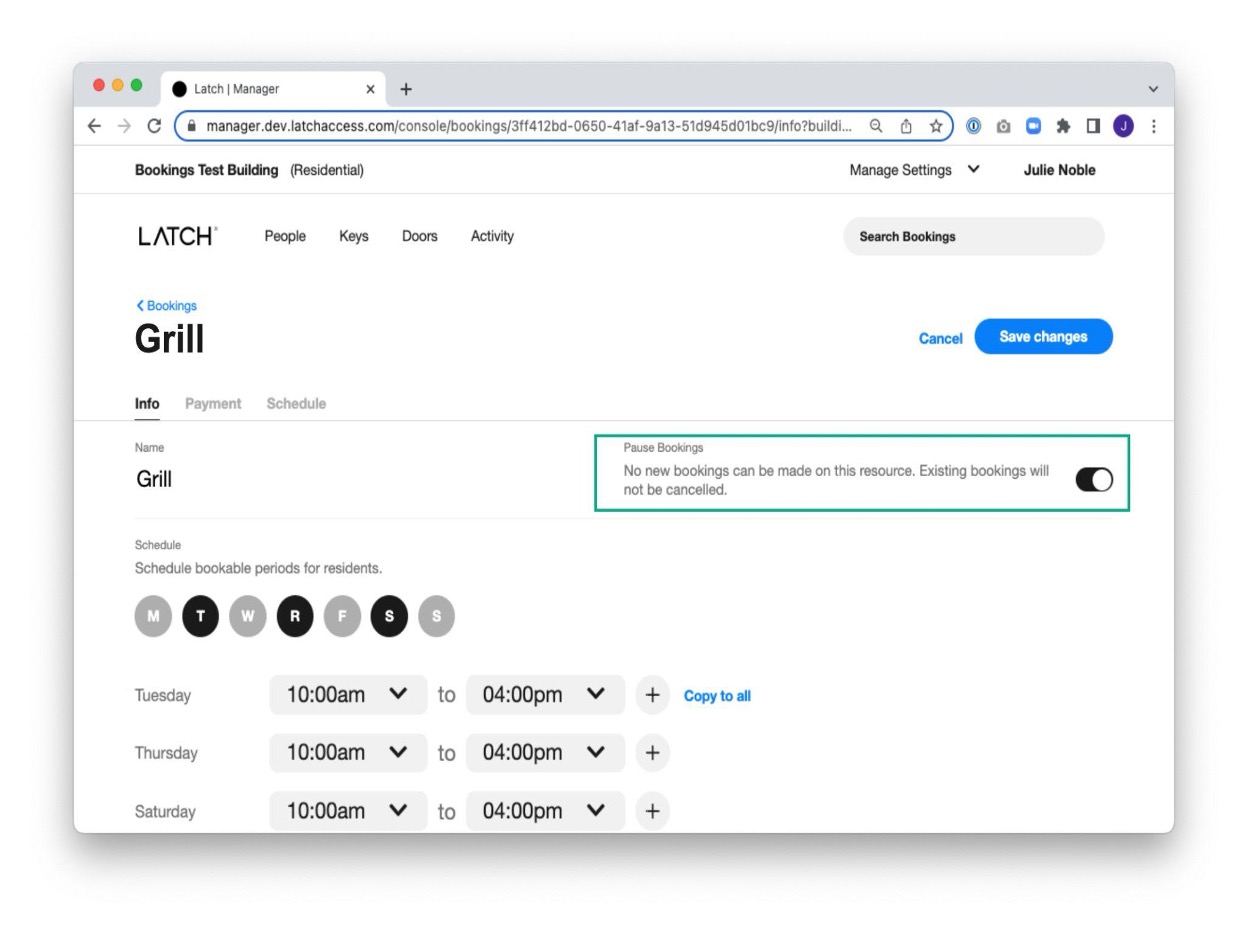 Viewing Bookings for a Resource/Space:
To view the upcoming schedule for a resource/space, select it from the Bookings overview page, then select the 'Schedule' tab on that resource page
Canceling a specific booking:
To cancel a resident's booking without removing all future bookings, for example, due to required maintenance or repairs, navigate to Resource/Space from the Bookings overview page, then select the 'Schedule' tab. From there, choose the specified day and time slot you'd like to cancel and select "Revoke." This will cancel this resident's booking and notify them in the Latch App and if the resource required payment to book, Residents will be refunded the full amount they paid for the booking.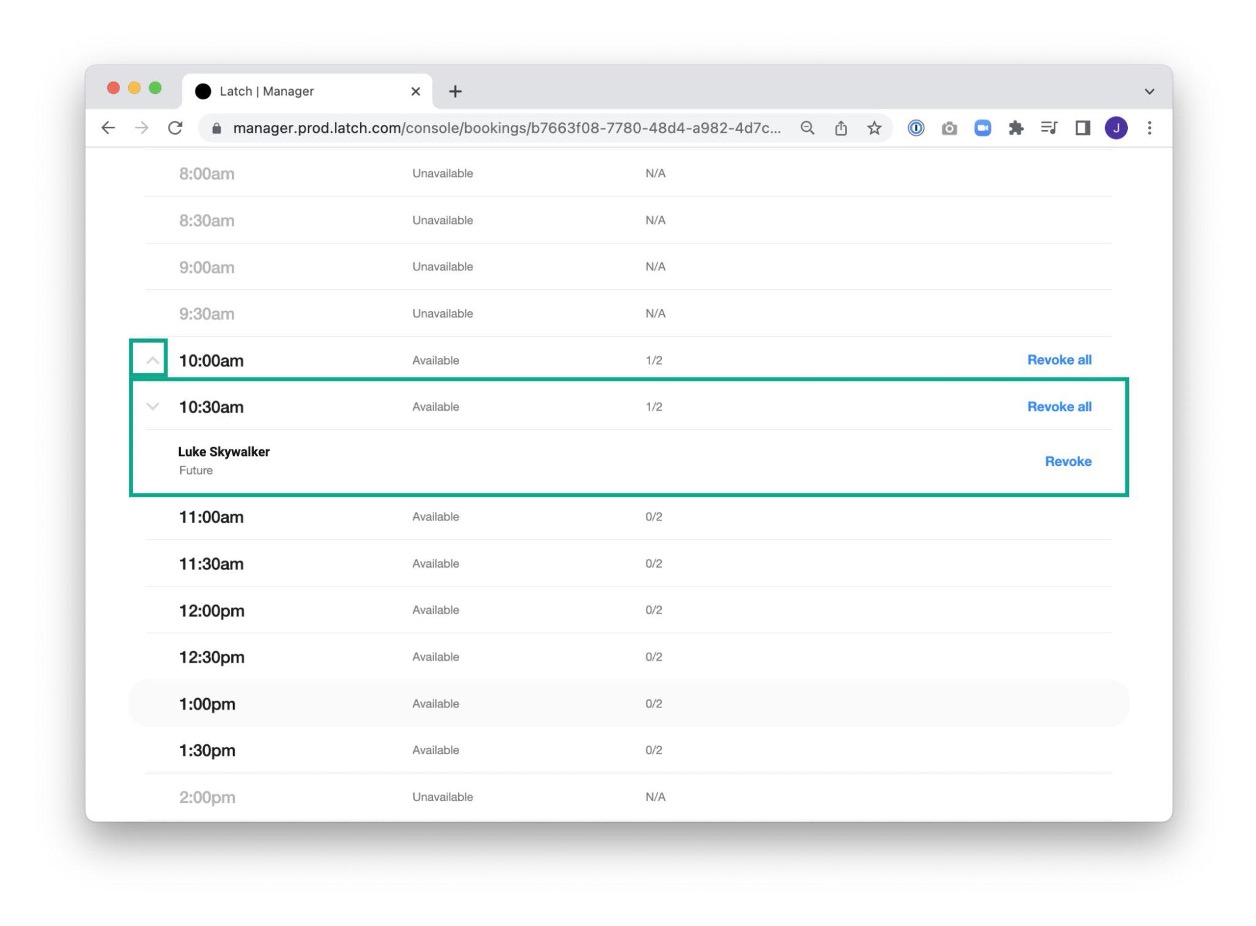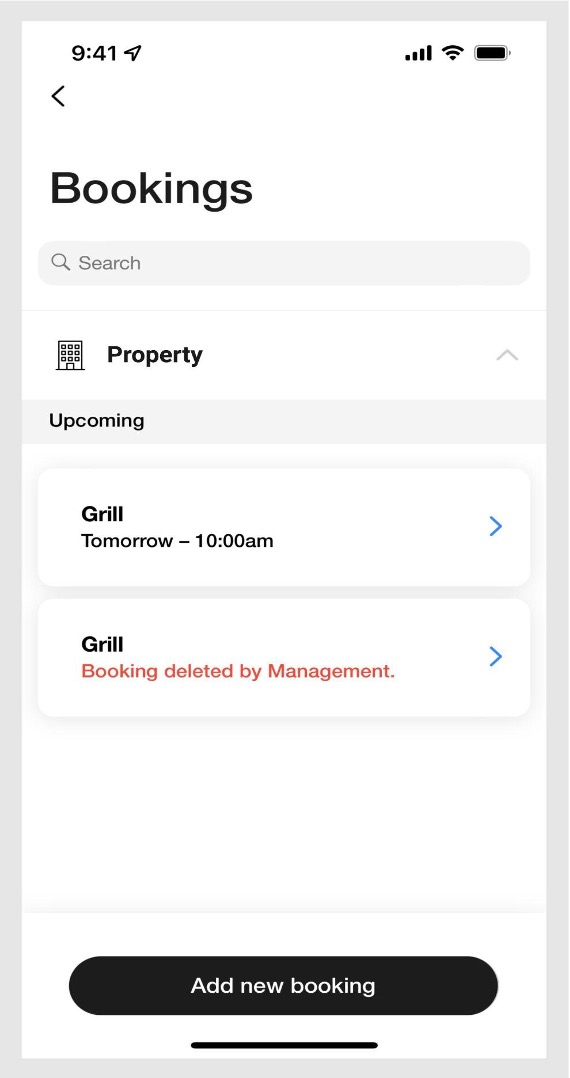 Refunds and Disputes
Residents can cancel their bookings up until the start time of their booking for a full refund.
You may also cancel it for them and trigger a refund through Mission Control up until the start time of the booking. This can be done by navigating to the specific booking time slot under the Schedule tab. Clicking on "Revoke" will cancel this resident's booking and notify them in the Latch app and email. Residents will be refunded the full amount they paid for the booking to their original form of payment
After the booking has already passed, please email Bookings@Latch.com to request a resident refund if there were any issues with their booking. The ability to do this within Mission Control is coming soon.
Any disputes from a Resident and their booking should be handled between the Resident and their Property Manager, and residents should be directed to communicate with their property management directly if they would like a refund or had any other issues with their booked amenities
Creating a Stripe Payment Profile
In order to get payouts from Stripe for the proceeds from Paid Bookings (and any and all payment services offered in the future), the process of creating a connected Stripe account for your property and connecting your bank account must first be completed. This must be done by a Portfolio Manager
This is all handled via Stripe, after which you will be directed back to Latch Mission Control and your Stripe account will be connected. Any proceeds from Latch Bookings will automatically be paid out to the bank account that is connected via the Stripe account.
Instructions:
Go to the Payments page under settings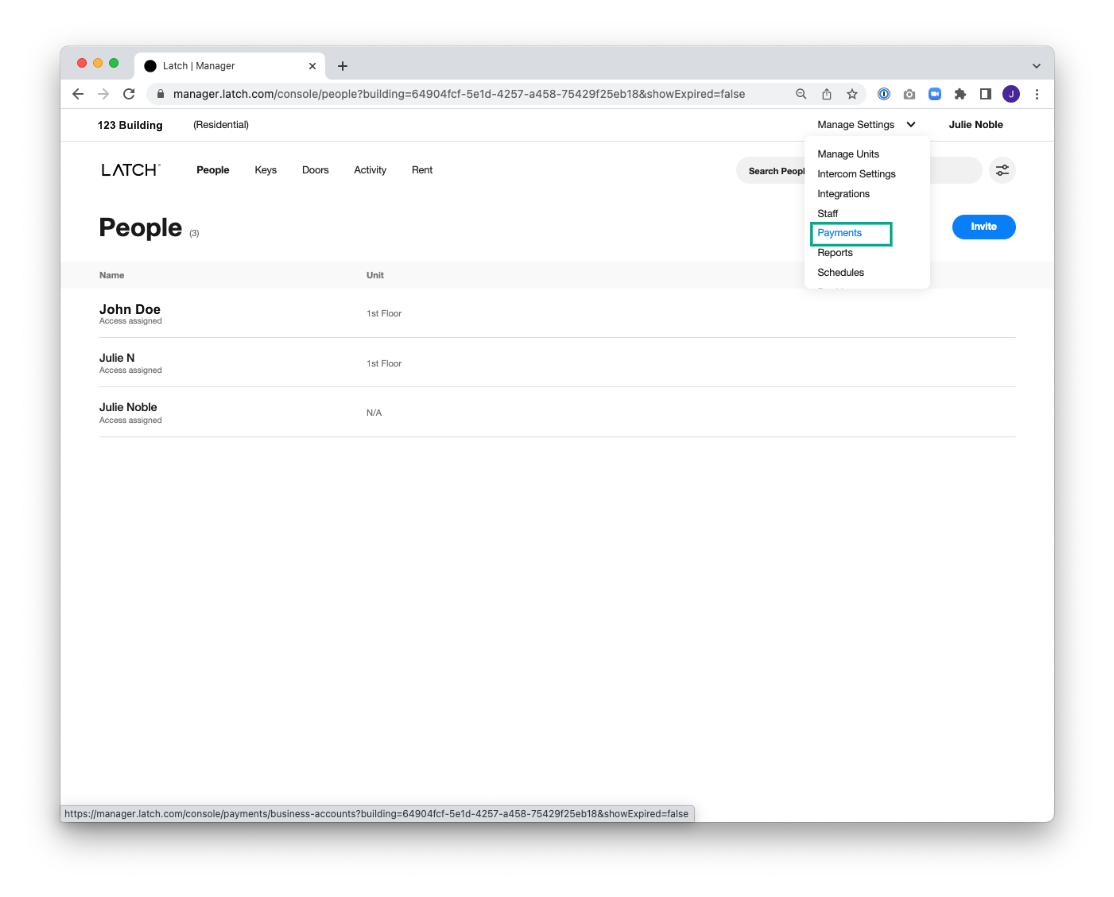 Go to the Bookings (Previously Credit Card Payments) tab and click Create Account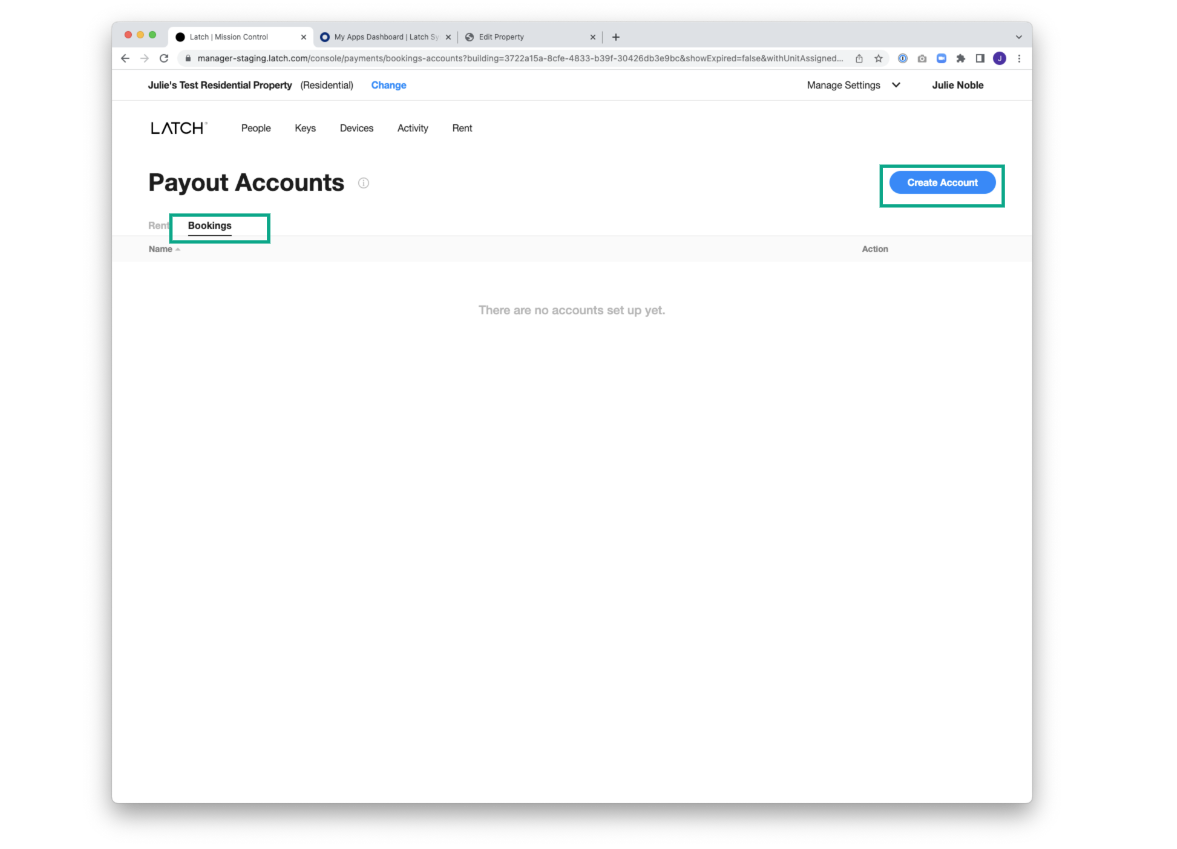 You will be redirected to Stripe to complete the Stripe account creation process. Follow all of the steps of setting up the Stripe account for your property. When the process is complete, you can close the Stripe window and return back to Mission Control.